VMware had many exciting announcements about End-User Computing (EUC) products at VMware Explore this year. Here's a rundown of what went on.
VMware had many exciting announcements about End-User Computing (EUC) products at VMware Explore this year. Here's a rundown of what went on.
In a keynote session at VMware Explore 2022, Shankar Iyer, Senior Vice President and General Manager of EUC at VMware, discussed the industry's move toward adopting a hybrid workforce; that is, employees working from the location that they want using the delivery platform that they want. He stressed that we should provide these workers with the tools they need to accomplish their tasks in a secure and efficient manner.
Earlier this year, VMware launched the next generation of Horizon Cloud on Microsoft Azure for a limited number of customers. At Explore, they announced that this feature is now available on all Horizon Cloud environments on Microsoft Azure, which greatly reduces the footprint and cost of Horizon on Azure by removing much of the infrastructure to a VMware-managed control plane.
Gabe Knuth, a member of the EUC Product Marketing team at VMware, produced a diagram that showed how a customer with 20K VMs could cut their infrastructure costs by 78% by going to the next generation of Horizon on Azure.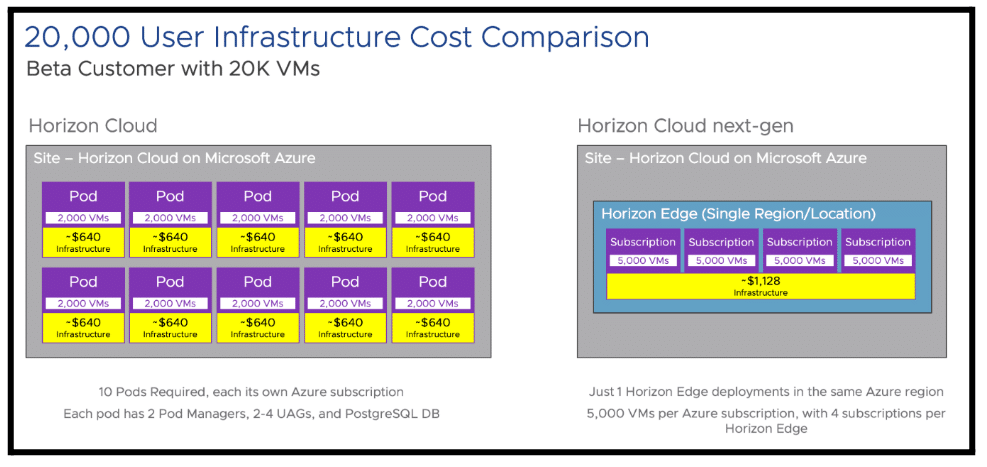 This next-gen architecture allows greater scalability as it supports 20K users per Azure subscription, compared to the old model which only allowed 5K per subscription.
With regard to the devices that frontline and remote employees use, VMware announced the imminent release of its Digital Employee Experience Management (DEEM) solutions pack for customers. DEEM will have dashboards that provide various relevant data points, such as return on investment (ROI), shared-device usage, device loss, and critical application performance, among many others.
VMware also announced that VMware Anywhere Workspace will have all the tools needed to deliver autonomous desktops and applications to users. To make this a reality, the company will be making these workspaces self-configuring, self-healing and self-securing. The platform will also provide the following features:
VDI and DaaS
Digital Employee Experience
Unified Endpoint Management
Security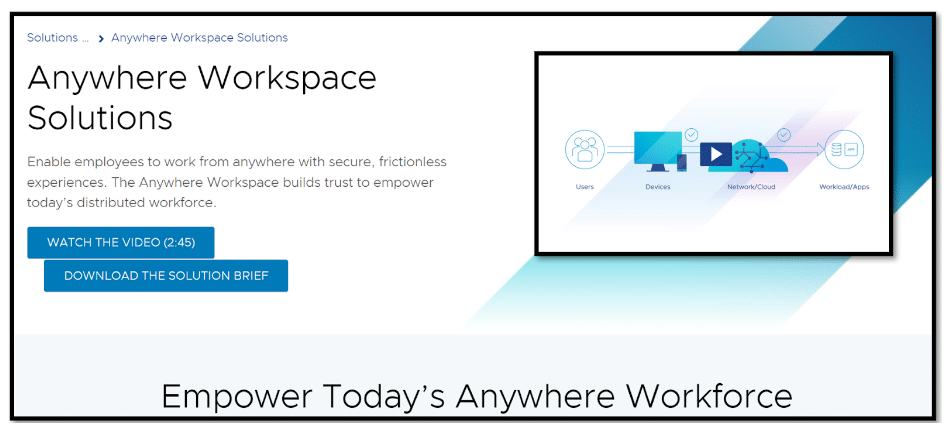 In addition, VMware announced the Horizon Managed Desktop, which they described as a "…flexible, cloud-hosted service that delivers fully managed virtual desktops and apps with a choice of deployment options: on-premises, hybrid, or public cloud." They then went on to discuss their collaboration with Google to bring access to applications from the cloud in a secure fashion via the use of Google Chromebook.
VMware also made a few announcements around Workspace ONE, including the that Intelligence Guided Root Cause Analysis will use machine learning algorithms to help IT professionals correlate relevant data points to recommend possible causes with a probability assigned. This will enable IT to solve issues more quickly, create automation to prevent other users from experiencing the issue, and restore productivity for impacted employees.


The Workspace ONE Freestyle Orchestrator now supports multi-platform automation for mobile devices and applications.

VMware has enhanced its Unified Endpoint Management (UEM) to include the availability of the multi-user mode for Windows OS, and a distribution-agnostic Linux endpoint solution. It also has an XR Hub for AR/VR devices. Moreover, they announced a tech preview of its next-gen Windows Update management, support for new Chrome OS APIs for Education, work profile on Android AMAPI, a dynamic, data-driven UI for iOS and Windows day-1 new policy support.

At Explore, I heard many rumors about what will happen regarding VMware's EUC line of products after the Broadcom deal closes. From my vantage point, I couldn't see any indication that VMware has slowed down on the development of its EUC products. All the announcements they made around EUC reinforced they are still headed in the right direction and are deeply committed to their EUC strategy.
Engage with StorageReview
Newsletter | YouTube | Podcast iTunes/Spotify | Instagram | Twitter | TikTok | RSS Feed